Critter Care Pet Wellness & Rehabilitation Center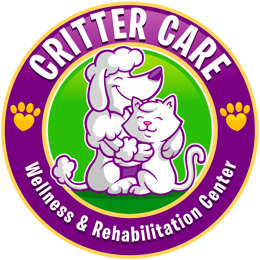 Our pets can sometimes be plagued by the same aches and pains we are, from age, old injuries, arthritis, being overweight or a chronic condition. They're healthy and get good veterinary checkups, but could really benefit from a little something more. We can provide that relief for them – locally and for a reasonable price. While we do provide full service veterinary care at Critter Care Wellness and Rehabilitation Center by appointment, we are available to care for your pet's specific rehab needs through a referral from your local veterinarian as well!
Please click through our service tabs to learn how we can help your pets, or call our office to speak with one of our care specialists.

What is Rehabilitation?
Rehabilitation is the use of therapeutic exercises combined with hydrotherapy, cold laser therapy, floor exercises and massage therapy to improve the recovery of patients with both acute and chronic conditions. We strive to do this at affordable pricing so every dog can be helped!

Our Mission Statement

To Provide excellent quality, compassionate care, to get the best possible outcome for your pet.